Gooseneck Trailer Self Latching Coupler
Gooseneck Trailer Self Latching Coupler
Self-Latching Gooseneck Trailer Coupler
Ships UPS or FedEx the same business day if your order is received before noon central Standard time. Free shipping to the lower 48 States.
Product Information:
These are replacement 2-5/16" Gooseneck trailer coupler and stem or coupler only, the coupler self-latches and releases remotely with a cable that can be conveniently located near your trailer jack handle. These couplers are low profile couplers for additional adjustment and more under the gooseneck ball clearance, and the stems are fabricated using extra heavy wall high strength tubing for maximum strength, not pipe and especially standard wall pipe as other manufacturers use.
The gooseneck trailer couplers are available with a 4 inch round, 4-1/2 inch square, or 4 inch square gooseneck trailer stem. The coupler & stem comes with all necessary hardware and coupler release cabling. Easy and simple to install, remove your old stem and simply replace it.
Product Installation:
All gooseneck trailer couplers with stems are fitted with premium "self-latching gooseneck trailer couplers" for the standard 2-5/16 gooseneck ball. These couplers latch when the trailer is lowered onto the ball. To uncouple, you simply pull a release cable located near the trailer jack handle. The couplers have a molded hitching guide for easy coupling. The couplers are precision cast of Chrome Vanadium Steel with a Stainless steel latching pin and a stainless steel spring. The couplers carry a V19 rating of 28,000 pounds and were tested to 42,000 pounds to gain this rating.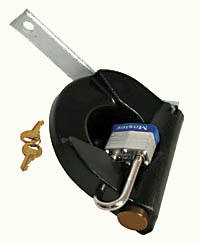 **We recommend putting the padlock body on the outside to ensure there`s enough room to insert your key.
Free shipping to the Lower 48 States!
An order recieved by noon central std time ships the same business day.