Tow Vehicle Frame Mount for Your 5th Wheel Hitch
Tow Vehicle Frame Mount for Your 5th Wheel Hitch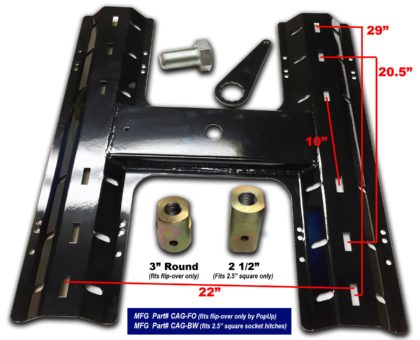 Tow Vehicle Frame Mount for Your 5th Wheel Hitch:
Frame Mount Your 5th Wheel Hitch Using a PopUp Flip-Over or B&W Turn-Over-Ball Gooseneck Hitch!
Ships UPS or FedEx the same business day if your order is received before noon central Standard time. Free shipping to the lower 48 States.
Product Information:
If you have a Flip-Over by PopUp or a Turnover by B&W, we have a Convert-A-Goose for you. With a GVWR of 20,000 lbs., you can pull just about any 5th wheel. The universal rail slots on the base plate will fit most 5th wheel units on the market today. Rated at 20,000 lbs., with no drilling required and a limited lifetime warranty, you really can`t ask for a better or easier solution!
Product Installation:
Simply remove the ball in your hitch, slide the post into place and lock it back into position. Lay the base plate over the post and tighten down. It's really that easy. NO bed rails, NO drilling holes, and much lighter at only 60 lbs. Most customers are able to install or remove in under 5 minutes.
Product Models:
CAG-FO fits the Flip-Over by PopUp Towing Products
CAG-BW fits the Turnover by B&W
**Make sure mounting feet on your 5th wheel hitch fits the universal rail measurements: most are, but not all 5th wheel hitches are compatible.
Free Shipping to the Lower 48 States!

An order recieved by noon ships the same business day.