Convert Your Manual Gooseneck Trailer Jack to Electric
---
Convert Your Manual Gooseneck Trailer Jack to Electric
Electric converter for a gooseneck trailer jack landing gear.
Convert Your Manual Gooseneck Trailer Jack to Electric.

Electrify your manual gooseneck trailer jack landing gear.
Electric gooseneck trailer jack adapter
Product Information:
Never crank that gooseneck trailer jack again, convert your manual two speed or single speed gooseneck trailer jack to electric. If you can crank your jack under load by hand more than a 1/4 turn at a time the are your answer and will work great.
The Magnum electric gooseneck trailer jack converter is an easy upgrade, designed to convert your two-speed or Single speed manual jack into a power jack.
These Heavy Duty ,time proven, converters come with the motor, mounting brackets, control box, wiring harness, installation instructions and has a manual crank backup shaft with a 5/16" hex head in case of battery failure.
These converters will work with single or dual landing gear (one converter will raise a single or dual jacks).
The Magnum Electric converter installs with basic hand tools. They have a 2 year factory warranty. Made in the USA, Ellington, Missouri by Magnum Lift Systems.
These heavy duty, time proven, electric converters for gooseneck trailer jack landing gears fit the most common gooseneck trailer jacks such as Bulldog, Holland, Binkley, and Ram but not limited to these brands of jacks.

An order recceived by 11:00 a.m. Central Standard Time, ships UPS the same business day from Ellington, Missouri.
Free shipping to the Lower 48 States!
Electric Gooseneck Trailer Jack Converter for 2 Speed Jack - 2SPDMTR
Model No.:2SPDMTR
Price:$ 593
Gooseneck Trailer Jack electric adapter for Single Speed jack - SPEL
Model No.:Magnum Lift SPEL
Price:$ 726
Extra freight to Canada for Single or Double reduction electric jack converter
Model No.:Jack electric converters extra freight to Canada
Price:$ 60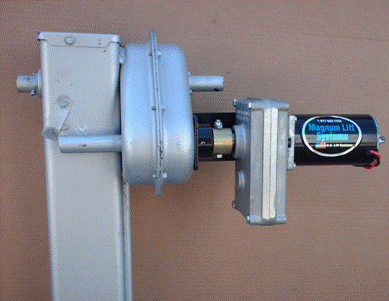 2SPDMTR for a two speed gooseneck trailer jack.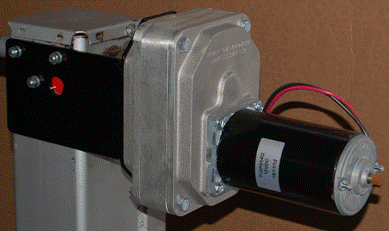 SPEL adapter for single speed gooseneck trailer jack.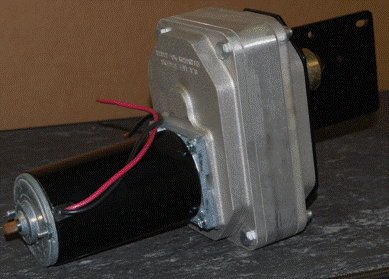 SPEL adapter for single speed gooseneck trailer jack.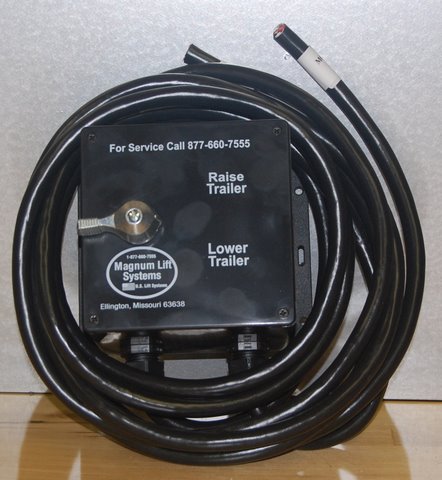 Electric control box for the SPEDMTR and SPEL electric converters for a gooseneck trailer jack landing gear.